Located in close proximity of the Tower of London, Tower Bridge is one of the most famous bridges in London, England, over the river of Thames. Over the years it has really become an iconic symbol of the city of London.
In the beginning, the London Bridge was the only one across the river of Thames, but while the city started to develop, more bridges were added across Thames. At the end of the 19th century the decision of adding a new bridge over Thames was made as there was the need for a bridge downstream of London Bridge, which would not disturb the river traffic activities. This is how the London Bridge got to be built and was opened for the first time on the 30th of July in 1894.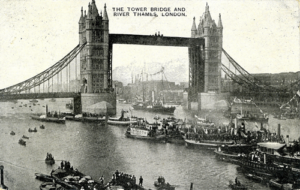 Consisting of two towers tied together, the tower is often referred to as London Bridge, which is a mistake as London Bridge is located upstream.
The Tower Bridge is for both vehicles and pedestrians. For many years the pedestrian walk ways were closed, but they have been reopened since 1982. At night the bridge is beautifully lit, creating a lovely backdrop for the Thames River.
This bridge features its own bridge exhibit, offering a chance to learn about the history of the bridge, see the inside and the mechanics of what makes Tower Bridge work.  Tickets can be bought online, or at the exhibit itself.
Tower Bridge can be reached by train, bus, tube or car. The bus lines that stop there are: 15, 48, 72, 100 The train lines that stop at Tower Bridge are: London Bridge or Cannon Hill
Tube lines that stop at Tower bridge: Tower Hill or London Bridge
Sightseeing near Tower Bridge
In close proximity of the Tower of London one can visit quite a few popular attractions, liked by tourist and locals as well. These include the Tower of London, St Katharine Docks, Shad Thames and HMS Belfast as well.
The Montcalm At Brewery London City is a lovely 5 star hotel with prices starting from 182 pounds for a double room per night. City View Hotel is a one star lodge that charges 44 pounds for a double room per night. Both accommodation spots are close to Tower Bridge.
Address
Tower Bridge Road, SE1 2UP London, UK
Telephone +44 (0) 20 7403 3761
Help us gather more info and pictures about Tower Bridge!
If you have visited the place and you have any other useful information just drop us an email!
Sources:
A View On Cities , The Tower Bridge