The Chain Bridge in Budapest is one of the city's most well known landmarks. The ornate suspension bridge was built in the 19th century to go over the Danube River and connect the then separate cities of Buda and Pest. To the Hungarians the bridge is known as Széchenyi lánchíd. It is named after the Duke who first initiated the project. The Duke later passed the project along to two accomplished bridge architects from the UK, William Tierney Clark and Adam Clark, who pushed the project to completion.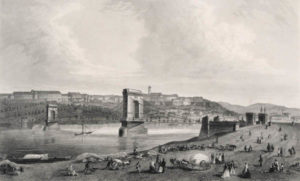 The Chain Bridge was one of the biggest reasons Budapest experienced the economic growth it did in the 19th century. It connected the provincial towns of Buda and Pest into a thriving metropolis. The Chain Bridge went on to become a representation of freedom to the Hungarian people as they gathered there to 1989 to demonstrate for freedom and independence.
Sightseeing near the Chain Bridge
The bridge is watched over by two stone lions. At night the bridge is beautifully lit up. Chain bridge is in the historical part of Budapest.
Accommodations near the bridge are plentiful. Some options are the Four Seasons Gresham Palace and Sofitel Budapest Chain Bridge.
On the Pest side of the Chain Bridge are floating restaurants. The bridge is accessible by the tram lines 1 and 19, or by bus number 16 and 105.
Help us gather more info and pictures about the Chain Bridge!
If you have visited the place and you have any other useful information just drop us an email!